Samsung Pay® FAQ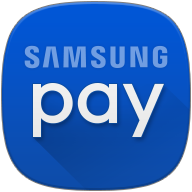 What is Samsung Pay?
Samsung Pay® is a safe and simple way to make mobile payments with select Samsung Galaxy® devices, and it works at almost any retailer where you can swipe or tap your card.
How does Samsung Pay work?
Samsung Pay uses proprietary technology that works with both Magnetic Secure Transmission (MST) and Near-Field Communication (NFC) to make contactless mobile payments. MST and NFC enable you to make secure transactions at virtually every card reader where you can swipe or tap your card.
Where can I use Samsung Pay?
Samsung Pay works almost anywhere you can swipe or tap your card. From the grocery store to the coffee shop to your favorite clothing stores, Samsung Pay is the only mobile payment service that works at the majority of U.S. retail locations. In situations where you have to dip your card or in places where you don't swipe your card yourself (e.g., sit-down restaurants, hotels, auto shops), it's better to use your actual card. Samsung Pay doesn't currently work at gas station pumps with dip readers, but it will work at most gas station cashier card readers.
Which devices will support Samsung Pay?
Please click here for a full list of compatible devices.
Which cards can I add to Samsung Pay?
Both MECU Debit and Credit Cards are available in Samsung Pay.
Will I receive a receipt after making a purchase with Samsung Pay?
When paying with Samsung Pay, you'll receive and sign a receipt for your purchases, just as you would with a physical card. You won't receive a separate physical or digital receipt from Samsung Pay.
How can I keep track of purchases I've made with Samsung Pay?
Most transactions made through Samsung Pay are viewable shortly after processing, for one month from the time of purchase. Simply open the app and tap on a card to see all the Samsung Pay transactions made with that card. Additionally, a notification with your transaction details will be sent to your device after each Samsung Pay purchase. Note: Notifications require an active internet connection.
How can I add my card?
Cards can be easily added to Samsung Pay by using your device's camera to scan in your card's information or by manually inputting the card information yourself.
How many cards can I add into Samsung Pay?
You can add up to 10 cards using Samsung Pay. Both credit cards and debit cards can be added.
How long will it take for my card to activate after adding it to Samsung Pay?
The average amount of time it takes before your card is fully active for use after being added and verified will vary slightly between issuers, but shouldn't take more than a few minutes. If you encounter any issues, please contact MECU for assistance. Don't try to enter the same card multiple times.
Where can I get more information on Samsung Pay?
More information is available at www.samsung.com .
Samsung®, Samsung Pay®, and Samsung Galaxy® are registered trademarks of Samsung Electronics Co., Ltd. Only compatible with select cards, carriers and Samsung devices.
Go to main navigation