All MECU offices will be closed in observance of President's Day on February 20, 2017
MECU Named "Best of Bauer" Credit Union
Michigan Educational Credit Union is proud to ring in 2017 as an official "Best of Bauer" credit union! That's because we've been awarded the highest 5-Star Superior rating from BauerFinancial, the Nation's Premier Bank and Credit Union Rating Firm, for 100 consecutive quarters. MECU has maintained the 5-Star Superior rating as one of the nation's strongest credit unions in terms of capital, loan quality and profitability. Click here to read the media release.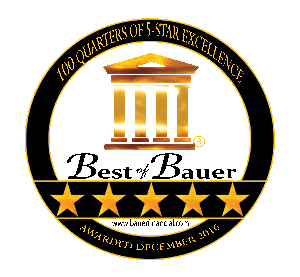 2017 - 1992 Automobiles (100% Financed)
Effective Date: 2/1/2017
Year From
Year To
Term
APR* as low as
2017
2013
Up to 60 Months
1.75%
2017
2013
72 Months**
2.75%
2017
2013
84 Months**
3.25%
2012
2010
Up to 60 Months
2.75%
2009
1992
Up to 48 Months
5.75%

** Minimum $25,000.00 for 84 month term, Minimum $10,000 for 72 month term

College Grad Discount - 2015 and 2016 graduates can save .25% off MECU's current 2017s/2016s auto loan rates.

Classic Cars (25 years and older)
As low as 7.50% - 36 months 7.50% - 48 months (minimum $10,000)

*Rates includes a .25% discount for direct deposit and .25% discount for share draft checking and may vary based on credit history. Please call the Credit Union for the most current rates and more details. Rates are subject to change at any time without notice.
Share Savings
Effective Date: 02/01/2017
Name
APY
Regular Share Savings
.15%
Christmas Club
.15%
Vacation Club
.15%

The minimum balance in these accounts is just $5.00. Rates may change at any time. Fees, which could be assessed for other services available through the credit union could reduce the earnings on these accounts. There is no fee however to maintain a Share Savings, Vacation or Christmas Club account. * Rates are subject to change at any time.
Share Certificates
Effective Date: 02/01/2017
Term
APY*
Minimum Amount
91 Days
0.30%
$2,500
182 Days
0.40%
$2,500
365 Days
0.70%
$2,500
18 Months
0.70%
$5,000
24 Months
0.95%
$5,000
30 Months
0.95%
$5,000
36 Months
1.20%
$5,000
48 Months
1.60%
$5,000
60 Months
1.95%
$5,000

Rates are subject to change at any time without notice. Please call for the most current rates.

*Annual Percentage Yields
All Rates
Go to main navigation