Apple Pay®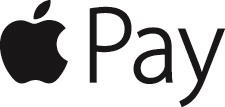 An Easier Way to Pay
Apple Pay® is an easy, secure and private way to make purchases. To pay, just hold your eligible Apple® device near a participating merchant's contactless reader. A vibration and beep let you know your payment has been accepted.
Add your MECU Debit or Credit Card today!
A Safe Way to Shop
Apple Pay® is safer than using a traditional credit or debit card. Every transaction on your iPhone® or iPad® requires you to authenticate with Touch ID™ or your passcode. Your Apple Watch® is protected by the passcode that only you know, and your passcode is required every time you put on your Apple Watch®. Your card number and identity aren't shared with the merchant, and your actual card numbers aren't stored on your device or on Apple® servers.
When you pay in stores, neither Apple® nor your device sends your actual credit or debit card numbers to merchants. When you pay within apps and websites in Safari®, the merchant will only receive information like name, email address, billing and shipping addresses that you authorize to share to fulfill your order. Apple Pay® retains anonymous transaction information such as approximate purchase amount. This information can't be tied back to you and never includes what you're buying. Apps that use Apple Pay® must have a privacy policy that you can view, which governs the use of your data.
How do I add a card to Apple Pay®?
You can start using Apple Pay® as soon as you add your card to Wallet. Remember to add your MECU Credit Cards to any device that you want to use with Apple Pay®.
You can contact us with any questions or visit apple.com/apple pay for more information.
How to Use Apple Pay® in Participating Stores:
1. Look for the pay wave or Apple Pay® symbol at checkout and hold your phone near the contactless reader.
2. Place your finger on the Touch ID™, Face ID®, or you may need to enter a passcode and sign a receipt.
3. Keep your phone by the reader until it vibrates and beeps, indicating your payment was accepted.
Easy. Secure. Private.
Making payments with Apple Pay® is easy. The entire transaction is secure, as your credit and debit card numbers aren't stored on the device or on Apple's® server, so they're never shared with the merchant. And, if your iPhone® is ever lost or stolen, just use the "Find My iPhone" feature.
Apple®, the Apple logo, iPhone®, iPad®, Apple Watch®, Safari®, and Apple Pay® are trademarks of Apple, Inc., registered in the U.S. and other countries. Touch IDTM is a trademark of Apple, Inc
Go to main navigation